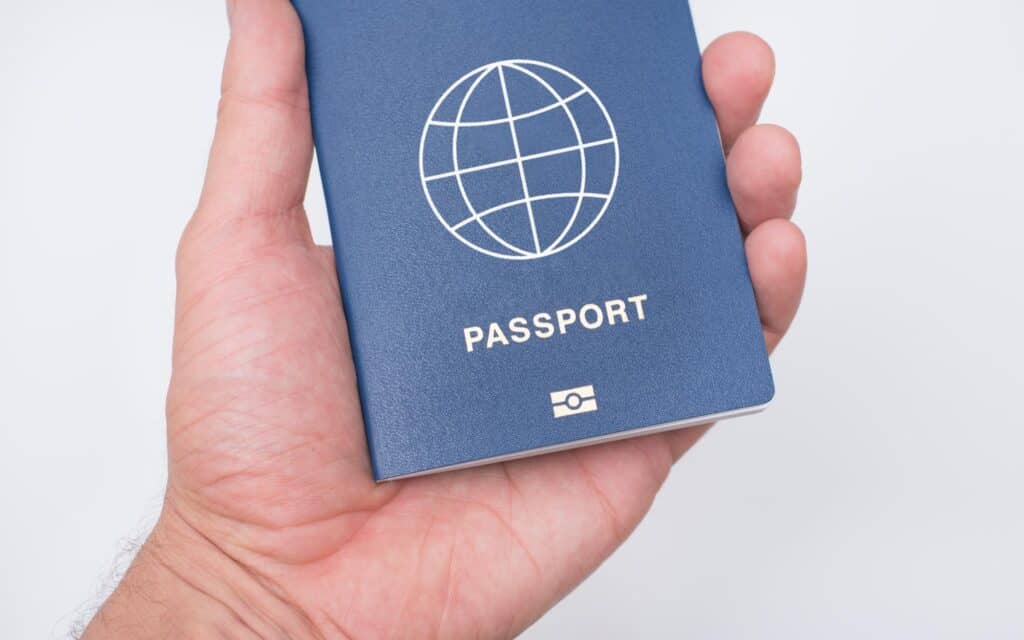 When it comes to travel documents, security has always been of the utmost importance. With the advance of technology, a new type of passports was created. Ones that contain a microchip with the unique personal data of the individual. They are called biometric passports (or ePassports).
This article looks at what a biometric passport is and answers the most popular questions about it such as:
How to tell if your passport is biometric
Is the biometric passport also machine-readable
Why your next passport should be a biometric one (if your country issues them)
Table of Contents
***
What is a biometric passport?
A biometric passport is a paper passport with a microchip embedded inside it. The chip has a microprocessor in it and contains the passport holder's personal information.
It is called a biometric passport because it also contains some of the holder's biological information like fingerprints or an iris scan.
The biometric passport is also sometimes called an ePassport due to the electronic chip inside. This is a bit of a misnomer, as the passport is still a paper one and looks much like its predecessors.
The microchip is usually embedded in the front or back cover of the passport, sometimes in the middle. It is so small that it doesn't create a dent and no lumps or ridges can be felt. The biometric passport looks and feels the same as an ordinary one with the exception of a golden chip logo on the front cover.
Biometric passports were created at the turn of the new millennium to combat identity theft and increase border security. Today, most countries in the world issue biometric passports.
***
What information is contained on a biometric passport's chip?
The information contained within the microchip in a biometric passport is mostly standardized and outlined by the ICAO Document 9303. 
The microchip contains:
Full name
Date of birth
Face photo (a full 3D map of the face is becoming the new standard)
Birthplace and nationality
Biometrics such as fingerprints and iris scans
Unique chip ID
Unique digital signature of the data stored (prevents data manipulation and any changes)
These can vary from country to country. 
***
Are biometric passports and ePassports the same?
Yes, biometric passports are the same as ePassports. These are two names to denote the same thing – a passport with an electronic microchip containing biometric information.
***
Are biometric passports machine-readable?
Yes, biometric passports are machine-readable. Biometric passports retain the machine-readable zone (MRZ) which is the bottom two lines on the identity page.
This means that all biometric passports are machine-readable but not all machine-readable passports are biometric. Check the front cover for the golden chip logo to figure out if your passport is biometric.
***
How to tell if your passport is biometric?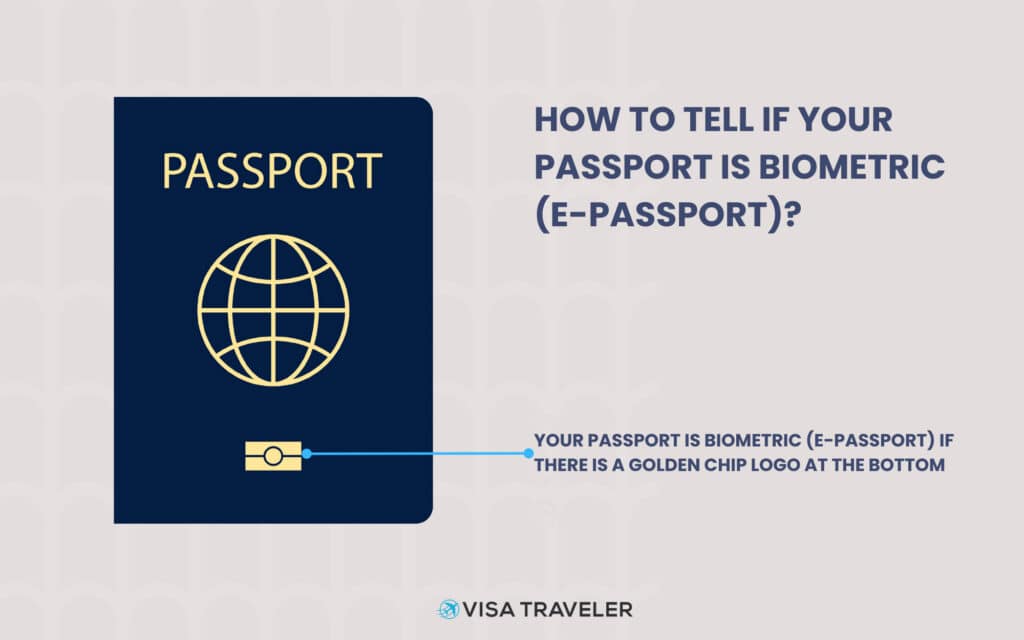 Despite the fact that the microchip is too small to be felt by fingers and there are no dents, curves, ridges or lumps, telling if your passport is biometric is quite easy.
Look at the front cover of your passport. If you see a small golden chip logo at the bottom under the word "Passport", then it is a biometric passport.
***
Benefits of having a biometric passport
The biometric passport is the most advanced type of standardized travel document available. As such, it comes with a few benefits that other passports do not have.
Increased security
Biometric passports are incredibly secure owing to their microchip. It contains a unique code making the data inside much more difficult to replicate or steal than the printed information. It's close to impossible for fraudsters and identity thieves to bypass this level of security.
Faster border crossing
You may have already seen ePassport gates at some of the world's busiest airports. If you possess a biometric passport and don't need a visa for your destination, you are eligible to use these e-gates and seamlessly go through border control.
The queues at the e-gates are much shorter than the queues at the human border officers, that's for sure!
Fulfilling visa or entry requirements
Some countries have already mandated that visitors have a biometric passport when entering or applying for a visa.
Most notable of all is the USA ESTA system also known as the visa-waiver program. Since April 2016, all visitors to the US who intend to use the ESTA must have a biometric passport with an electronic chip.
The European Union visa-free entry system called ETIAS will also require that applicants have a biometric passport. It's not yet active but is scheduled to come into force in 2025.
***
Which countries issue biometric passports?
As of 2023, most countries in the world issue biometric passports. These include the US, Canada, Australia, New Zealand, all countries in the EU, the UK and many others.
While some only issue biometric or ePassports, others offer a choice to their citizens. An example is Indonesia where citizens can choose what kind of passport they want.
Few countries have not yet introduced biometric passports for ordinary citizens. A few notable examples are India and Egypt.
***
Frequently Asked Questions (FAQs)
Is the US passport biometric?
The US has been issuing only biometric passports since August 2007. Other passports remain valid until their expiry date, but since most US passports have 5 or 10 years of validity, chances are that your US passport is biometric.
Is the UK passport biometric?
The UK government has been issuing only biometric passports since 2010. All non-biometric passports have expired by now meaning all UK passports today are biometric.
Are Canadian passports biometric?
Canada has been issuing biometric passports since 2013. All Canadian passports are biometric by now.
A notable difference is that the chip in the Canadian ePassport contains only the photo of the holder's face.
Is the Indian passport biometric?
As of 2023, most Indian passports are NOT biometric. 
For Diplomatic passports, India has been issuing biometric passports since 2008. However, ordinary citizens are still not eligible for such.
In 2019, the Indian Government began a staged introduction of biometric passports for regular citizens, but after several delays and setbacks, the issuing of ordinary biometric passports has still not commenced.