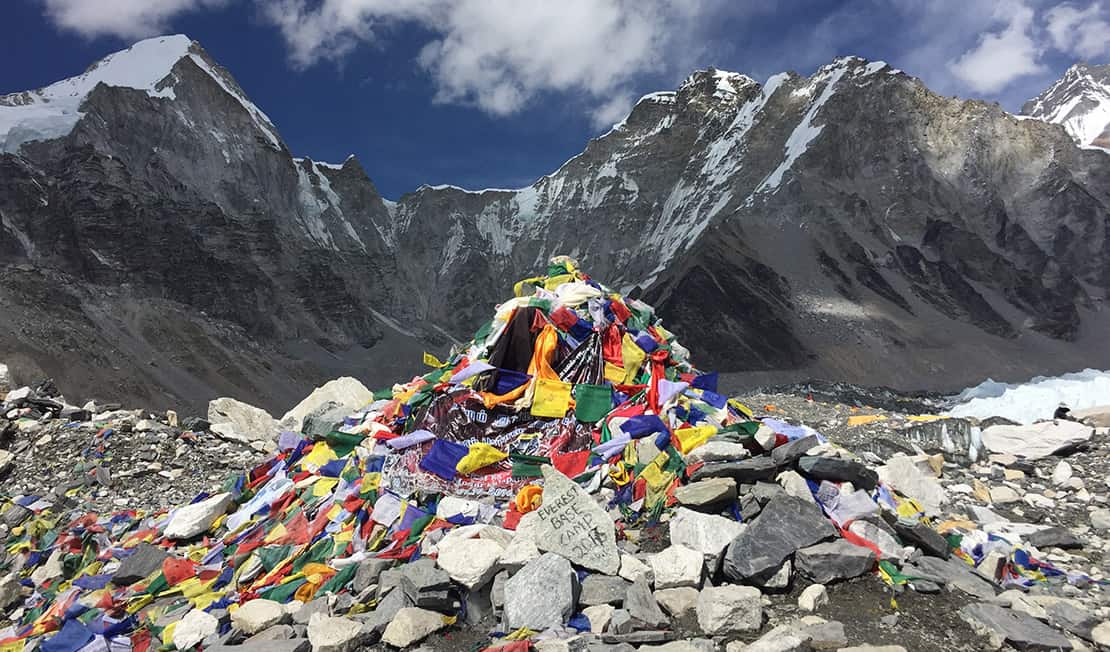 The Everest Base Camp trek is an adventure of a lifetime. It is not just a trek – it is a journey, it's a challenge and on top of all it is an achievement. The sense of accomplishment when you arrive at the base camp is incredible.
It is a walk in the foot steps of legends like Edmund Hillary and Tenzing Norgay. It is an inspiration from the summiteers who lost their lives like Scot Fischer and Rob Hall. It is a mesmerizing view of the world's highest mountains. It is a journey through the Sherpa villages, beautiful rhododendron forests, gushing rivers and handing bridges.
Best time to trek EBC
The best time to trek EBC is October – December and the second best time is March – May. My recommendation is March – May for the following reasons
The trails are less crowded
More rooms are available in the lodges
Extra blankets are available in the lodges
No need to rush to the lodge early as it is easy to find rooms even later in the day (after 3pm)
Nepal visa requirements

Nepal has a very good visa on arrival policy offering visa on arrival to most nationalities. Refer to the Nepal Visa Guide for complete details.
Flight to Nepal

Tribhuvan International Airport (KTM) in Kathmandu is the only international airport in Nepal. If you are traveling from India, there are buses to Kathmandu and Pokhara from various locations in North India.
Hotel in Kathmandu

Thamel is the best area to stay when you are embarking on your EBC journey. There is pretty much everything in Thamel. You can find hotels, hostels, restaurants, bars, cafes and stores selling/renting all kinds of trekking gear.
All hotels in Thamel area store your bags for free while you are on your trek. Every hotel has a storage room where you can leave your luggage. If you are leaving behind your laptop and valuables, let the hotel staff know so they'll keep the bag somewhere safe. I left my backpack in the storage but gave my day pack with values to the owner of the hotel who stored it for me at his house.
If you are looking for a budget hotel, I recommend Hotel Pokhara Peace. Thamel is noisy and dusty area, but this hotel is on a quite street yet central to everything.
Arrive in Kathmandu

When you arrive at Tribhuvan International Airport, follow the below procedure
Grab and fill the arrival card
Scan your passport and fill the visa application at one of the immigration kiosks
Pay the visa fee depending to the number of days you are staying in Nepal
Go through the immigration and customs to receive your visa on arrival
Claim your luggage
Get a taxi to Thamel
Prepaid taxis are available in the airport. If you prefer a cheaper option, walk towards the front of the taxi line and negotiate the price. You can usually negotiate a taxi for 500 NPR to Thamel.
Explore Kathmandu
Take a day or two to explore Kathmandu. Refer to the Kathmandu Travel Guide for what to see and what to do in Kathmandu.
Hire a guide
Most of the treks in Nepal including EBC can be done on your own without a guide. I still recommend to hire a guide for your trek. A guide will tell you more about the villages, the peaks, the trails, the people and can also help you when you get sick/injured and with any rescue measures.
Nepal depends heavily on tourism. Guiding and Porting are very hard and seasonal jobs. Hiring a guide and/or a porter can provide them with employment and it is also a great way to give back to the country.
Hiring a guide and/or porter can be done in many ways
Book a packaged group tour from a reputed international agency such as G Adventures. This is the most expensive option. It can cost anywhere from $1,200 USD to $4,000 USD per person.
Hire a guide online from a Nepal based trekking agency. Guides usually cost about 2,200 NPR to 2,500 NPR ($22-$25USD) per day and a porter around 2,000 NPR ($20USD) per day.
Hire a guide from a local trekking agency when you arrive in Kathmandu. You can negotiate the prices but a guide usually cost about 2,200 NPR per day.
Hire a Sherpa or a Porter-Guide from Lukla for about 2,000 NPR per day.
There are many trekking agencies in Thamel that can arrange you a guide and/or porter. I suggest to shop around and talk to a few agencies and guides to see if you are comfortable hiring one of them. I have used Trek Around Nepal to hire a guide for my EBC trek. I strongly recommend them since they have many experienced and friendly guides. They provided me with excellent service and I became good friends with their guides and the owner.
If you are hiring an independent guide and/or porter from Kathmandu or a sherpa/porter from Lukla, make sure they have proper qualification/license, experience, clothing, gear and insurance. Make sure they speak English and will be able to help you with rescue in case of emergency. One note of caution is that cheaper guides may not have proper qualification or experience.
Trek on your own
If you have opted to trek on your own without a guide, follow the below steps
Get an EBC map and familiarize yourself with the route and the layout
Book your round trip tickets to Lukla. Book the earliest flight out of Kathmandu.
Get the TIMS permits
Follow the day by day itinerary on how to trek to Everest Base Camp
Insurance
Insurance is very much necessary for EBC trek. You will be trekking at high altitude, cold weather and windy conditions. There is a high chance of altitude sickness and injuries. You would need an insurance that covers trekking up to an altitude of 6,000 meters and evacuation in case of emergency.
If you are hiring a guide and/or porter from a trekking company, they would want you to purchase a good insurance and send a copy to them. That way they can work with your insurance company to rescue you in case of emergency.
I have used World Nomads for my trek. Both their Standard and Explorer plans cover EBC. The helicopter evacuation in case of sickness or injury itself will cost $5,000 USD. So, make sure to get an insurance. Otherwise it is just too expensive on the pocket.
Permits
You would need two permits for your EBC trek
TIMS (Trekkers' Information Management System) permit

1,000 NPR for group trekkers from foreign countries
2,000 NPR for individual trekkers from foreign countries
300 NPR for group trekkers from SAARC countries
600 NPR for individual trekkers from SAARC countries

Sagarmatha National Park permit

3,390 NPR for foreigners
1,695 NPR for nationals from SAARC countries
Your guide or the trekking company will manage the permits for you. If you are trekking on your own, you can get TIMS permit in Thamel and Sagarmatha permit in Monju (on your second day of the trek). You need one passport size photo for TIMS permit.
Purchase/Rent Gear
You can purchase pretty much everything that you need for your trek in Kathmandu. They would work fine for your trek. But, if you are looking for quality gear, purchase them in your home country prior to your trip. International trekking stores like The North Face and Sherpa have their outlets in Thamel area.
You can also rent backpacks, sleeping bags and down jackets in Thamel. I rented a backpack and down jacket from Shona's Alpine Rental. Below are the rental prices for trekking gear in Thamel area.
Downjacket – 100 NPR per day
Sleeping bag – 80 NPR per day
Backpack – 60 NPR per day
Deposit – 3,000 NPR for each item
Gear
1 40 liter backpack – You won't need a bag larger than this. You can rent one from most stores in Thamel.
1 4 seasons sleeping bag – You can rent one from most stores in Thamel.
1 thick down jacket – You can rent one from most stores in Thamel
1 good pair broken-in hiking boots/shoes – Buy shoes in your home country and wear them for a few days before the trek
2 trekking pants – You will wear these during the day on your trek
2 quick drying long sleeve t-shirts – You will wear these during the day on your trek. Each would cost 500 NPR in Thamel.
1 light weight rain jacket – In case if it starts to rain
1 pair of thermals – You will wear the thermals in the night inside your sleeping bag and on your trek only when it's way too cold. Each top and bottom thermal would cost 750 NPR in Thamel.
3 pair underwear
3 pair wool blend thick hiking/trekking socks – You will wear them during the trek. Each will cost 500 NPR in Thamel.
1 pair woolen socks – You will wear the woolen socks in your lodge and during the night inside the sleeping bag. One pair will cost 500 NPR in Thamel
1 small quick drying towel – To dry your face and hands off when you wash them at your lodge. A small towel will cost 200 NPR in Thamel.
1 fleece winter hat – Very much necessary as it gets much colder at high altitudes. You will also wear it in the night in your sleeping bag. It will cost about 400 NPR in Thamel.
1 buff – It can be used as a scarf, a dust mask or a light winter hat. It will cost about 250 NPR in Thamel.
1 pair gloves – Very much necessary as it gets much colder at high altitudes. It will cost about 500 NPR in Thamel.
1 pair polarized sunglasses – Sun and ultra voilet rays are much stronger at the high altitudes.
1 one liter Nalgene water bottle – Just one bottle is enough. You can use this bottle for both hot and cold water. One bottle will cost about 500 NPR in Thamel.
1 pair of light weight flip flops – You will wear these along with woolen socks once you are in the lodge. A pair will cost about 150 NPR.
1 trekking pole – Just one pole is enough and is necessary. One pole will cost about 500 NPR.
1 head torch with 1 extra battery – Lodges use solar powered lights and sometimes they go off in the night at high altitudes. Also need it when you start to trek up Kalapattar.
1 ultra lightweight dry sack – To keep your dirty cloths and socks.
Toiletries
Hand sanitizer – You won't be able to wash your hands all the time as the water will be very cold. Use hand sanitizer after toilet breaks and before eating
Sunscreen – Sun is very strong at high altitudes.
Wet wipes – You will use these to clean yourself. Hot showers are too expensive.
Toilet paper
Tooth paste
Tooth brush
Deodorant
Small soap
Chapstick or lip balm
Medications
Diamox – For altitude sickness
Anti Diarrhea Medication – In case you get sick due to water or food
Pain Killer – Ibuprofen or Tylenol in case if you have head aches due to altitude or wind
Anti Cold Medication – In case you catch cold
Strepsils – For throat issues if you catch cold)
Water purification tabs – To purify drinking water during the trek
ORS packets – To rehydrate yourself if you catch Diarrhea
You can purchase medications (Diamox, Anti Diarrhea, Anti Cold, Pain Killers) at several pharmacies in and around Chetrapati Chowk.
You can purchase Strepsils, water purification tabs and ORS packets at Shop Right Supermarket in Thamel.
Others
Passport – You need to carry your passport with your in order to checkin at Kathmandu airport for your flight to Lukla
Prints of round trip tickets to Lukla – To checkin at Kathmandu and in Lukla
Cash – You need cash pay for your room, meals, drinks, permits, etc.
Mobile Phone
Mobile Phone charger
Camera
Camera Charger
Optional
External battery – You can bring a fully charged external battery to charge your phone as phone charging is very expensive at the lodges
Pen and a couple sheets of paper (or a small notebook) – To take takes, etc
Snacks (2 packets of biscuits + 3 snickers bars)
Kindle – It can get very boring at the lodges. There won't be much books in English at the lodges. Bring your own kindle.
Kathmandu-Lukla Flight

Your trekking company will book the tickets for you. You will have to pay the flight fare for your guide and porter as well if they will be joining you from Kathmandu.
If you are trekking on your own, I suggest to book the earliest (6am) flight out of Kathmandu.
Goma Air, Tara Air and Simrik Airlines operate regular flights between Kathmandu and Lukla. The fares on the all 3 airlines are almost same. Here is the break down of the fares –
Nepalese Fare – Around 5,000 NPR one way
Indian Fare – Around 10,000 NPR one way
Foreigner Fare – Around 16,000 NPR ($160 USD) one way
Cash
You need cash for your meals, lodge and permits. Credit cards are also accepted at some lodges but a service charge of 6-10% is charged in addition to the bill.
You need approximately 2,500 NPR per day (30,000 NPR for a 12 day trek) if you are paying for your meals/drinks/lodege yourself. Same applies to those who are trekking on their own.
If you already paid the trekking agency as a package, then you need around 1,000 NPR or less per day (10,000 NPR for a 12 day trek) for any additional drinks/snacks etc.
It is common to tip your guide and porter at the end of the trek. Guides and porters put a lot of effort and I think it is a good courtesy to tip them. I do not know the exact percentages, but I tip my guide 7,000 NPR.
If you have forgotten to get the cash in Kathmandu, there are a couple ATMs in Lukla and Namche Bazar. After that there are no more ATMs.
Internet/Wifi/3G
There is a paid wifi service called Everest Link available in all lodges. You have to buy a wifi card at the reception with contains a user id and password that you can use to access the Everest Link wifi.
NCell and Namaste have reception in most places except Dingboche and Loboche. 3G works fine if there is reception.
Expenses
A room in an inexpensive lodge costs about 200 NPR per person. This includes one or two beds in the room, blankets and a shared/common toilet.
Breakfast (eggs, toast and coffee) costs around 500 NPR – 800 NPR
Dal Bhat costs around 600 NPR – 800 NPR
Egg Chowmein or Fried Rice costs around 600 NPR – 800 NPR
Pizza costs around 600 NPR – 800 NPR
Black Tea costs around 80 NPR – 100 NPR
Black Coffee costs around 100 NPR – 150 NPR
1 liter of hot drinking water costs around 300 NPR – 350 NPR
Beer at Lukla costs around 600 NPR – 700 NPR
Charging electronics
There won't be any electrical outlets in the rooms. You can only charge your electronics at the reception. Charging your phone is expensive and usually costs anywhere from 250 NPR to 500 NPR for a full battery charge.
Taking showers
It is difficult to wash hands with cold water in that weather, so taking a cold shower is out of question. Hot showers are very expensive. An hot shower would cost anywhere between 400 NPR to 500 NPR. I suggest to not take a shower at all. I did not shower for the entire 12 days of my trek. I have used wet wipes to clean myself.
Morning routine
Stretch your calves, quads and gluts in the morning when you wake up or before starting the trek.
Wear sunscreen in the morning before starting the trek. Sun is very strong at high altitudes and it can burn your skin very easily.
Afternoon routine
Wash your face and hands when you get to the lodge at around 2-3pm. Day will still be a bit warm when you arrive. So, it will be manageable to wash face and hands with cold water at that time. If it's too cold, just use wet wipes to clean yourself
Take off your shoes and socks and wear woolen socks and flip-flops. This will let the feet breathe and be ready for the walk next day.
Night routine
Eat around 6.30pm or 7pm and go to bed by 7.30pm or 8pm. That way you can wake up at 6am and still get about 10 hours of sleep. You would need 9-10 hours sleep to recover well and be ready for the trek.
Use a blanket on top of your sleeping bag to make it more warm. Do not hesitate to ask for extra blankets if you need
Do not drink too much water before going to bed. Getting out from the sleeping bag to go to the bathroom can be extremely difficult in those cold nights.
Switch off your phone (to conserve the battery) and keep it inside your sleeping bag. The battery of the phone drains fast in the cold, even if it's switched off. The warmth inside the sleeping bag will prevent the battery from draining.
Keep your water bottle inside the sleep bag as well. If it is hot water, it will warm you inside the sleeping bag. If it is cold water, it will get warm slowly due to body heat. If the water is left outside, it can get frozen by morning.
Do's
Do give way to donkeys, horses, yaks and porters on the trail. Donkey, horses and yaks do not yield way to you and they will knock you off. Just step aside when you see them. Porters carry heavy loads on their head and backs. It's hard for them to see what's in the front. Always give way to porters with heavy loads.
Do stand on the uphill side and not on the edge side when yielding way to donkeys, horses and yaks.
Do eat good breakfast, good lunch and good dinner. That way, you do not need any snacks and you won't feel fatigued on the trek.
Do eat Dal Bhat for lunch. It gives a good amount of carbs and protein. You also get free refills.
Do drink at least 2-3 liters of water every day. Your body dehydrates fast on the trek.
Do break-in your trekking shoes before using them on the trek
Do always keep the stupa on your right when pass one. It is customary to go in clock wise direction around the stupas.
Do maintain a slow and steady pace and keeping hydrating yourself.
Do bring your kindle or a book. It can get extremely boring in the lodges. Lodges do not have enough books in English.
Do bring an external battery as charging your smart phone can be very expensive.
Do book the first flight to Lukla out of Kathmandu. The weather in Lukla is not good most of the time and flights usually get delayed. If you are on the first flight, you would still have a chance of flying on the same day. Consider booking Goma as they have the earliest 6am flight and their flights are new.
Do donate any unneeded gear after your trek to the Porters' Clothing Bank at KEEP Nepal in Thamel
Dont's
Don't throw trash on the trail. There are designated areas to throw trash or just keep it in the bag and trash it at your lodge.
Don't need to pack anything extra other than I have mentioned. When walking for so many kilometers for so many hours a day, even an extra pound of weight can seem too heavy
Don't need to bring any extra snacks other than I have mentioned. You won't need much snacks if each good breakfast, good lunch and good dinner.
Don't eat meat on the trek. Meat is carried up by the porters and is usually not fresh. Tuna is ok to consume.
Don't drink alcohol. Alcohol and altitude do not go well. You can have a beer or two to celebrate when you return back to Namche or Lukla.
Don't buy water bottles. Water bottles are expensive. Just fill your bottle at the lodge or restaurant with cold water and use water purification tablets. Cold water in lodges and restaurants is free.
Don't use your phone much. Check message and emails once in a while and keep it in airplane more. That way you can conserve your battery and not pay for charging.
Don't bring any camping gear such as tents, etc (except sleeping bag). You will be staying in lodges (called Tea Houses).
Don't take a shower. Hot showers are expensive and they costs 400 NPR – 500 NPR. Bring a small soap and wash your face and hands when you get to the lodge around 2-3pm when the weather is still a bit warm. Otherwise, use wet wipes to clean yourself.
Things to keep in mind
You can take half a Diamox in the morning and half in the night if you start noticing altitude related issues. I only took half of it one night and was able to manage my headaches with just drinking lots of water, tea, coffee and garlic soup.
Garlic soup is recommended for altitude sickness. Try it and see if it helps.
You do not have to be super athletic or an experienced hiker to trek EBC. People from all ages and all fitness levels trek EBC successfully.
Overall
Everest base camp trek is the most popular trek in Nepal. The journey, the views and the sense of accomplishment at the end of the trek are incredible. Hope this post helps you with planning and embarking on your EBC adventure.