Santiago is the capital city of Chile. Over 40% of Chile's population lives in this city. It's sandwiched between the coastal mountains on the west and the Andes on the east. This Santiago travel guide gives you all the information you need on visa, transit options, survival tips and things to do in this green city.
Santiago de chile feels cosmopolitan. The city is made up of 32 neighborhoods (called communas). The city is mostly flat with two hills Cerro San Cristobal and Cerro Santa Lucia.
Planning

Chile is a bit expensive compared to other countries in South America. Booking your hotel, hostel or Airbnb in advance can save you money. Visa processing is online, but it can take a few days for approval. Apply in advance to avoid any delays.
Visa
Refer to the Chile Visa Guide for detailed information on visa requirements, application process and documentation. Mexico and Australia passport holders have to pay a reciprocity fee on entry. It's a one time fee for the life of the passport.
Flight
Santiago has only one airport for both international and domestic flights. The Aeropuerto International Arturo Merino Benitez (SCI) is located about 26km from the main city.
Accommodation
I suggest these two neighborhoods (communas) to stay in Santiago.
Providencia – A very clean, safe and residential neighborhood with lots of restaurants and bars. Very affordable. Many Airbnbs are available in neighborhood. Closest Metro station is Pedro de Valdivia (L1).
Bellavista – A bohemian neighborhood with plenty of bars, restaurants and night clubs. Many hotels and hostels are available in this neighborhood. Closest Metro station is Baquedano (L1 and L5).
Guide
In addition to this Santiago travel guide, I also suggest to check out the below guides to plan your trip.
Tours4Tips (Free walking tours. Recommended tip $5,000 CLP)
Getting around
Transport from/to airport
Santiago has a great Metro system, but it doesn't connect city with the airport. There are two bus companies that offer excellent bus service from the airport to the nearest Metro station.
Centropuerto – It's a blue colored bus that operates from Gate 5 in the airport. Take this bus from Gate 5 to Pajaritos Metro station. One way fare is $1,600 CLP. You can pay this fare directly to the driver while getting in. No need for exact change. It would take about 20 minutes to get to Pajaritos Metro station.
Tur-bus – It's a red colored double decker bus that operates from Gate 5 in the airport. Take this bus from Gate 5 to Pajaritos Metro stations. One way fare is $1,700 CLP. You can pay this fare directly to the driver while getting in. No need for exact change. It would take about 20 minutes to get to Pajaritos Metro station.
At Pajaritos, take the Metro L1 (Red) going towards Los Dominicos. You can transfer to other lines in downtown. If you are going to Providencia, just continue on the Metro L1 all the way to Pedro de Valdivia station. One way fare is $660 CLP. It would take about 30 minutes to get to Pedro de Valdivia Metro station.
Train
Santiago has the best Metro service. It connects pretty much every part of the city. There are 5 metro lines called L1, L2, L4, L4A, and L5. Metro trains can get crowded during rush hours. Metro does not run 24 hours. Check the timings on the website.
Bus
A bus in Santiago is called a Micro (pronounced as meecro). You need a BIP card to pay on a Micro. You cannot pay with cash. You can buy a BIP card at any metro station.
Taxi
Taxis are widely available. You can hail them from anywhere.
Uber
Uber service is also available in Santiago.
Tickets/Passes
Santiago has good Metro system. It is fast, clean and inexpensive. Depending on much you will be using the public transit, you can either buy a pass or one way tickets.
One-way Metro ride tickets: If you are staying only a few days and will be taking only Metro then just buy one-way tickets at the Metro stations. Each one way ride costs $660 CLP. You can buy one-way ride tickets at the ticket counters in any Metro station.
BIP Card: If you are staying longer and will be taking both Metro and Micros (buses), then buy a BIP Card. You can purchase a BIP card at the ticket counter or vending machine at any Metro station. Each ride on Metro using a BIP card costs $660 CLP. The card itself will cost you an additional $1,550 CLP initially.
Survival
ATM
Banco Santander ATMs are available at Gate 5 in the airport. After you insert the card and entered the pin, select "foreign client" option on the next screen. Follow the instructions from there.
ATMs are available everywhere in the city. Most banks charge a fee for using a non-bank international ATM card.
Tip: Banco Estado doesn't charge a fee for using a non-bank international ATM card.
Credit Card
Credit cards are accepted at most restaurants, bars and hotels. Make sure they swipe your card in front of you.
Currency Exchange
Currency exchanges are available in the airport.
Internet
Santiago has very good internet speeds. Pretty much all cafes have fast wifi.
Water
Tap water is perfectly safe to drink in Santiago. No need to purchase bottled water.
Food
Chile doesn't have much variety in their cuisine. Food options in Santiago are mostly Peruvian, American, Italian and Japanese.
Menu del dia (menu of the day) is available for lunch in most restaurants. Menu del dia is a 3 course meal served during lunch time in most latin countries. It consists of a salad or soup, a main dish and a desert. Sometimes a drink is also included. It's inexpensive, delicious and healthy. Typically cost $6,000 CLP.
Restaurants to try in Providencia – Tea connection, La Gloria, Pizzeria Olimpia
Bars to try in Bellavista – Dublin pub
Drinks
There are two Chilean specialities that you can try – Pisco Sour and Terramoto.
Chilean and international beers are available in all bars. Chilean beers to try are Kross (from Patagonia) and Kunstmann (from Valdivia). American beers such as Coors, Corona and International beers like Hineken, Stella Artois are also available.
Tipping
Tip in restaurants and bars is 10%. It is not included in the bill. When paying cash, you can add the 10% tip. When paying by card, either the waitress will ask if a tip can be included or they will handover the Credit Card terminal to you and you can input the desired percentage or value.
Clothing
In any season, Santiago can be a bit chilly in the nights due to the surrounding mountains. Carry long sleeve shirts or a light jacket.
Toilet
People use toilet paper. Used toilet paper is thrown into the toilet and flushed.
Safety
Santiago is mostly safe. Exercise caution and careful with your belongings in downtown especially close to Plaza de Armas.
Explore
Things to do and places to explore in Santiago.
Cerro San Cristobal

It is the highest hill with in the city with a panoramic view of the entire city and the Andes mountiains. Great spot to hike or bike. Visibility of the surrounding mountains can be low due to fog and pollution. Best time for a clear view is right after a rain. Great spot for night time photography. The views are amazing in the winter as the Andes in the background are covered with snow.
Cerro Santa Lucia
It is the second highest hill in the city very close to the downtown. You will find great views of the downtown and the city. Great spot to just walk around and chill.
Plaza de Armas

It is the main square of the city in downtown. It has a beautiful plaza with a church surrounded by historic buildings. This place can be crowded, so watch your belongings.
Barrio Lastarria
A very trendy neighborhood with interesting restaurants, bars, street artists and musicians. Great on Saturdays and Sundays during the day. Great place to buy souvenirs and books.
Patio Bellavista
An area with lively streets and great restaurants. It is a bit touristy and expensive. A great place to walk around and people watch.
Overall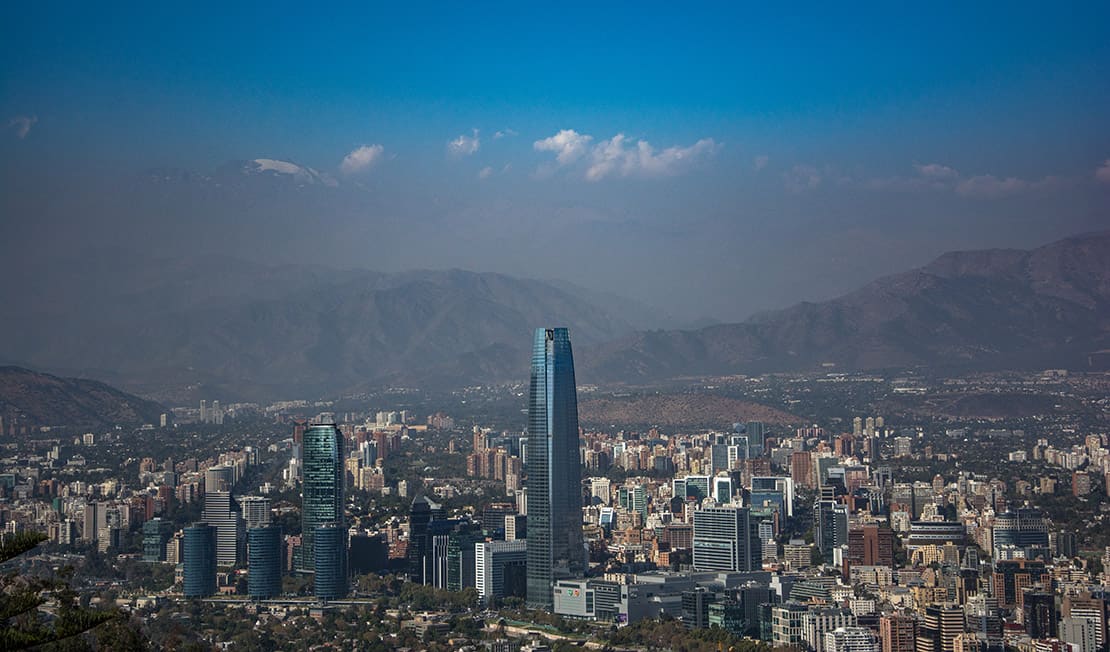 Santiago is a cosmopolitan city. It has a reliable transportation system which makes it easy to get around. It's easy to get to the city from the airport. You will need at least 3 to 4 days to explore this city.
[do_widget id=text-36]
[do_widget id=text-35]
[do_widget id=text-34]
***