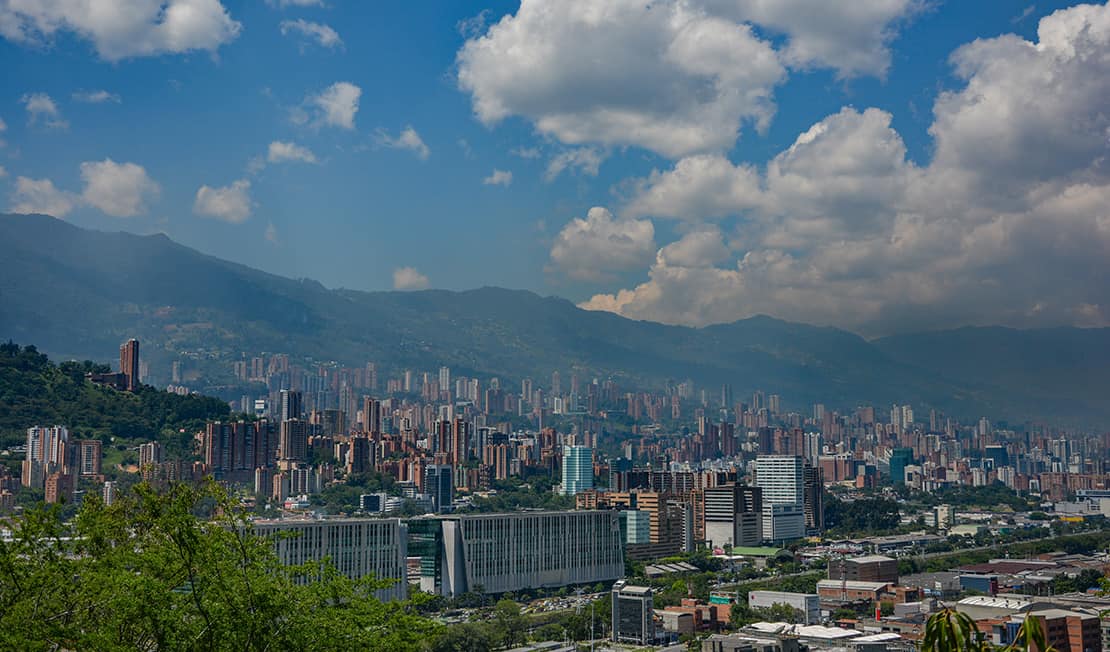 Medellín is the second largest city in Colombia. It's called the city of eternal spring as it boasts a mild spring like weather all year around. This city has a picturesque landscape with green mountains around and neighborhoods up the hills. This Medellin travel guide gives you all the information you need on visa, transit options, survival tips and things to do in this city of eternal spring.
Medellín was once a most dangerous city. But now, it's the best city to live in Colombia. Thanks to the locals, climate and infrastructure. It's also quite popular with expats from all around the world. You will need at least 2 days to explore Medellín.
Planning
Visa
Refer to Colombia Visa Guide for detailed information on visa requirements, application process and documentation.
Flight
The main airport in Medellín for both international and domestic flights is Aeropuerto Internacional José María Córdova (MDE). This airport is located in a nearby town called Rionegro. It is about 1 hour from Medellín city center. Budget airlines within Colombia such as VivaColombia, EasyFly and Avianca also operate from this airport.
There is also a small and older airport within the city called Aeropuerto Olaya Herrara (EOH). Only a handful of domestic flights fly to this airport.
Tip: When booking flights within Colombia, book them directly on the flight's website instead of an online travel booking site such as Expedia. Online travel booking sites show only internationally available tickets which are priced at 3 to 4 times higher than the actual price. You can book tickets using an international credit card on VivaColombia, EasyFly and Avianca. Tickets are issued right away on VivaColombia and EasyFly. Avianca takes about 8 hours and sometimes they call on your cellphone to verify the details. You have to pay for carry on baggage on VivaColombia and EasyFly. Avianca includes a carry on in the ticket.
Accommodation
I suggest these two neighborhoods to stay in Medellín.
Laureles-Estadio – A quite and safe residential neighborhood with lots of bars, restaurants and cafes. Safe to walk around even late in the night. It can get a bit noisy close to the stadium. This neighborhood is mostly flat and offers beautiful views of the surrounding mountains and the barrios (neighborhoods) on the hills. There are not many hotels here. But there a many Airbnbs in this neighborhood. Very affordable. The closest metro stations are Suramericana, Estadio and Floresta.
El Poblado – A bustling and lively neighborhood with tons of bars, restaurants and clubs. It may not be very safe to walk around in the isolated streets during late night. This neighborhood is hilly. It offer beautiful views of the surrounding mountains. There are tons of hotels, hostels and Airbnbs in this neightborhood. A bit expensive. The closest metro station is Poblado.
Guide
In addition to this Medellin travel guide, I suggest to check out the below guides to plan your trip.
Getting around
Transport from/to airport
Medellín Metro does not connect the city with the MDE airport. There are vans or colectivos that operate between the airport and downtown.
When you exit the airport, take a right and walk along the side walk. There is a stop for airport shuttles. These are white color mini buses. Some buses go to the south of the city and some to the bus station next to Nutibara hotel in downtown.
It is a bit easy to get to El Poblado or Laureles-Estadio from downtown. Just ask the bus driver if it is going to Nutibara in downtown. A one way ride costs $9,000 COP.
When you get off the bus at the bus station next to Hotel Nutibara in downtown, walk to Parque Berrío metro station. It's about a 5 minute walk from the bus station, but you have to walk through the downtown.
Walking through downtown can be intimidating as downtown is always packed with people. Be careful with your belongings.
For going to El Poblado, take the Metro Line A going towards El Estrella. Get off at Poblado station. One way metro ride costs $2,150 COP.
For going to Laureles-Estadio, take the Metro Line A going towards La Estrella. Get off at San Antonio station. San Antonio is just the next station from Parque Berrío. They are actually very close. If you could, you can just walk all the way to San Antonio station after getting off the shuttle.
In San Antonio station, change to Metro Line B going towards San Javier. Get off at Suramericana, Estadio or Floresta station depending on where you are staying in Laureles-Estadio. One way metro ride costs $2,150 COP. No charge for the transfer.
Train
Medellín has the best public transit system. It is the only city in Colombia that has a Metro system. Many expats prefer to live in Medellín due it's efficient public transit system. The Medellín Metro has two train lines – Line A and Line B. It also has a few tramways and cable cars.
Here is the detailed map of the Medillín Metro system.
Bus
There are two bus lines – Line 1 and Line 2 that serve the areas that metro train does not. You can use a metro ticket or pass on the buses.
Cable car
Cable cars in Medellín are actually one of the tourist attractions. Many tourists ride the cable cars to enjoy the views of the city. These cable cars are mostly used by the people living in the barrios up the hills. These hills were crime ridden once but now they are slowly being gentrified.
If you plan to ride a cable car, I suggest to stay inside the cable car station up the hill for safety reasons. You can still get a pretty good view of the entire city from there. Do not get off the station and walk around in the neighborhood.
Taxi
Taxis are widely available in the entire city and the airport.
Uber
Uber is widely available but there is a backlash against Uber from police and taxi drivers. Sit in the front seat when you get in. If someone stops your Uber, just say you are friends with the driver. Do not say it's Uber, otherwise both you and the driver might get into trouble.
Tickets/Passes
Depending on how much and how frequent you will be using public transit, you can buy one way tickets or a pass.
One way ride ticket – Each one way ride ticket costs $2,150 COP. You can buy one way ride tickets at any Metro station. A one way ticket is loaded on a card. No extra charge for the card itself. You have to insert the card into the ticket slot at the terminal. The card will not be returned after that.
Multiple ride ticket – Multiple rides are also loaded on the same card as a one way ticket. If you load 4 rides at a time, it costs $8,100 COP. You save a little by purchasing multiple rides at a time. You have to touch the card to the touch pad at the terminal. If there is only one ride left on the card, then you cannot use the touch pad. You need to use the card slot in that case. Your card will not be returned after that. You can use these cards on the entire Metro system including train, bus, tramway and cable car. Each ride is $2,150 COP on any of these.
Survival
ATM
ATMs are in the airport and at most places within the city. Most bars and restaurants accept cash only.
Credit Card
Some bars and restaurants do accept credit cards. Make sure they swipe your card in front of you.
Currency Exchange
Currency exchanges are available in the airport
Internet
Internet speeds are very good. Many cafes have wifi and the speeds are pretty good.
Water
Tap water is perfectly safe to drink in Medellín. No need to purchase water bottles.
Food
Colombian cuisine has a lot of variety and is very delicious. Tamales are fresh, big and delicious. Try Bandeja Paisa, a Medellín speciality. There are also a lot of soup dishes such as Ajiaco, Sancocho, etc which are absolutely delicious. Menu del dia is also available at most places.
Try Guarapu, it's sugar cane juice with lime available at street vendors and restaurants.
Colombia has a lot of variety in fruits. There are many exotic fruits that are only available in Colombia. Try fruits and juices while you are in Medillín.
Drinks
Two commonly available Colombian beers are Club Colombia and Aquila. Both are great beers.
Tipping
Tip is not mandatory. If you like to leave a tip, it's usually 10%. It is not included in the bill. When paying by cash, you can add a tip. When paying by card, you will be asked by the waitress if a service charge (tip) can be included and how much.
Clothing
Medellín is called the city of eternal spring. This city offers nice weather all around the year. Just regular cloths are fine. No need for a jacket.
Safety
Laureles-Estadio is completely safe even during late night. El Poblado is safe as well, but avoid isolated streets in the night. Take taxi/Uber in the rest of the city after dark. If you are riding the cable cars, stay inside the cable car stations.
Explore
Things to do and places to explore in Medellín.
Medellín Centro

This is the downtown part of the city. Downtown is very crowded through out the day. All major attractions are within the downtown. The best way to explore downtown is to take the free walking tour by Real City Tours. These guys cover all major attractions, give a good overview of the history of the city, take you through the alleys and markets which you wouldn't go by yourself. You are also safe with these guys as you go with the group.
Pueblito Paisa

Medellín is in the state of Antioquia. The people of Antioquia are called Paisa. Pueblito Paisa is a miniature version of an Antioquian town. It sits on a hill called Cerro Nutibara. This hill is a great spot to hike. There are some great views of the city from the top of the hill. Pueblito Paisa has a church, a few small stores and restaurants. There is also a market with food vendors serving fresh Colombian cuisine.
Cable cars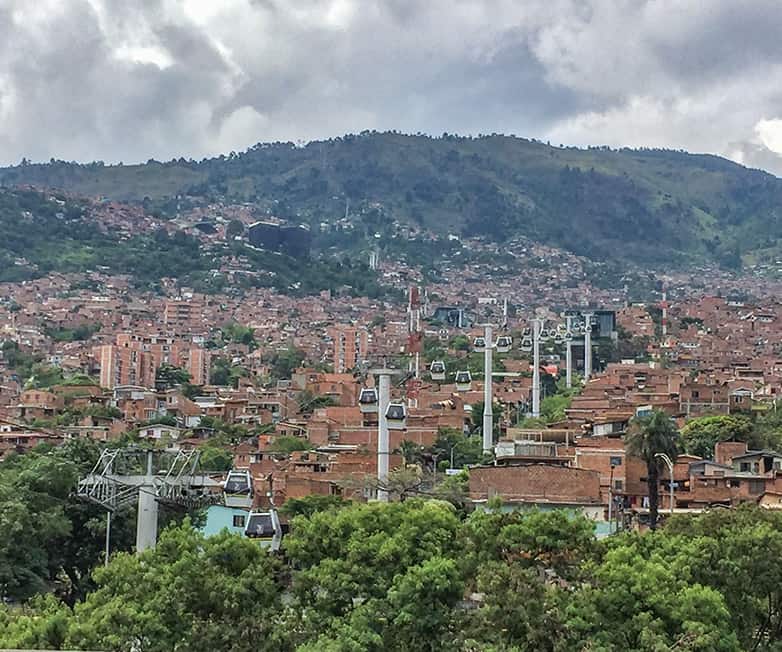 Cable cars not only provide transportation to the people living in the barrios up the hills, but also a tourist attraction. Riding the cable cars is a unique experience. These are very small cars with a capacity of max 6 people, moving up and down the hills continuously. They do not stop, they move very slowly at the station and you have to be quick enough to get in and out of the car. You will get the best views of the city from the cable cars. For safety reasons, stay within the cable car stations up the hills. One way ride on a cable car costs $2,150 COP. Cable cars are also part of Medellín metro, so if you are making a transfer from a train to a cable car, there is no need to pay again.
Overall

Medellín has beautiful landscape and nice weather throughout the year. It is very easy to get around in this city thanks to it's excellent metro system. You will need at least 2 days to explore Medellín.
[do_widget id=text-36]
[do_widget id=text-35]
[do_widget id=text-34]
***