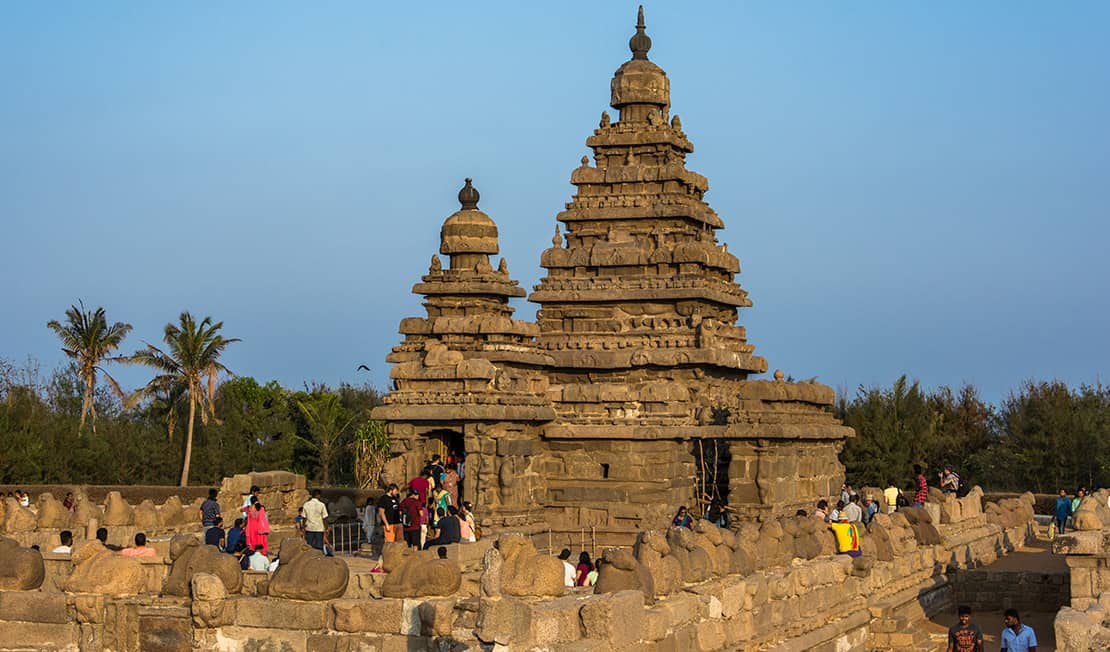 Mamallapuram (Mahabalipuram) is the ancient sea port city of Pallava dynasty in India. This Mamallapuram travel guide will give you all the information you need to plan your trip and tips/advice to explore this ancient city of India.
The archeological monuments in Mamallapuram dating back to 7th-9th century are the oldest existing examples of South Indian (Dravidian) architecture. These structures are carved straight out of hard granite. The shore temple in Mahabalipuram was declared a UNESCO world heritage site in 1984.
You will need 1 day to explore Mamallapuram (Mahabalipuram).
Planning
Visa
India Visa Guide coming soon.
Flight
Chennai International Airport (MAA) is the closest airport.
Accommodation
Hotels, guest houses and Airbnbs are a bit expensive. A cheapest non air-condition room in a guest house costs about 1000 INR. A cheapest air-condition room costs about 1500 INR. You can get away with a non air-condition room during the winter months, but you would definitely need an air-condition room in non-winter months.
Most hotels and guest houses are around Othavadai St and Othavadai Cross St. The town is very small and is walkable by foot, so it doesn't really matter where you are staying.
Guide
In addition to this Mamallapuram travel guide, I suggest you to check out the below guides to plan your trip.
Getting around
Transport from/to airport
The most expensive option is to take a taxi directly from the airport. Least expensive would be to take a Taxi or Uber to CMBT bus station and take a local bus from there.
Transport from/to CMBT bus terminal
The express air-condition buses from CMBT (Chennai Mofussil Bus Terminus) that go directly to Pondicherry do not stop in Mamallapuram. Only non-aircondition local buses stop in Mamallapuram. Non-aircondition local buses are cheap, but they can get extremely crowded. A one way ride on a local bus would cost 45 INR.
Tip: To avoid getting stuck in the crowd on the bus, always pick an empty bus in the bus station. Sit in the very first seat next to the driver. The very first seat will have more leg room and space for luggage. Do not sit in the middle or back of the bus. There won't be any luggage space in the middle or back of the bus. The overhead bins are only for very small backpacks. Either way, keep an eye on your bags.
Bus will drop you off on the main road, called ECR (East Coast Road) or by-pass road. Take an auto-rickshaw (tuk-tuk) to your hotel or guest house. Auto-rickshaw costs about 50 INR.
Train
There is no train option available for Mamallapuram
Bus
There are no local buses inside the town. The town is very small and is walkable.
Uber
Uber service is not available in the town.
Auto-rickshaw
Auto-rickshaw or tuk-tuk (called an "auto" in India) are available everywhere within the town.
Survival
ATM
Only a couple ATMs and currency exchanges are available in the town.
Credit Card
Hotels and restaurants do not accept credit card and insist on paying with cash or paying an additional surcharge of 3%.
Currency Exchange
There are a couple currency exchanges within the town.
Internet
Internet is terrible in the town. Wifi offered at the hotels and cafes do not work. There are a couple Internet centers in the town in case of emergency.
Alternate option is to get an Airtel prepaid sim with 4G data to browse or use it as a hotspot. Airtel has good reception here and the 4G speeds are very good.
Cell Phone
Airtel has very good reception in the town. Jio and other providers have very poor reception.
Water
Tap water is not safe for drinking. Water bottles are sold pretty much everywhere. A 1 liter water bottle costs 20 INR and a 2 liter costs 30 INR.
Food
South Indian and North India cuisine is available in most restaurants. Sandwiches, burgers and pizza are also available in restaurants in and around Othavadai street. For good South Indian Vegetarian food, I recommend Sri Ananda Bhavan and Mamalla Bhavan.
Drinks
There are quite a few bars and restaurants around that sell local Indian beer.
Tipping
Tipping is not customary in India. You can just leave small change. Or pick up the bill and pay at the cash counter.
Clothing
Mamallapuram is warm/hot most of the year. Summer wear should be good throughout the year.
Laundry
Most hotels offer laundry services. There are no coin or self service laundry facilities in the town.
Toilet
It is common to use bidet sprayer or hand shower in the toilets in India. Hotels do not provide any toilet paper. You may have to purchase your own toilet paper.
There are plenty of stores around that sell toilet paper. Used toilet paper is usually thrown in the toilet and flushed.
Safety
The town is small and pretty safe until 10pm or so in the night. One thing to keep in mind is the street vendors. They hassle the tourists a lot. Do not pay much attention to them, just walk away. Some times they chase you and bug you, just say no and walk away.
Explore
The Shore Temple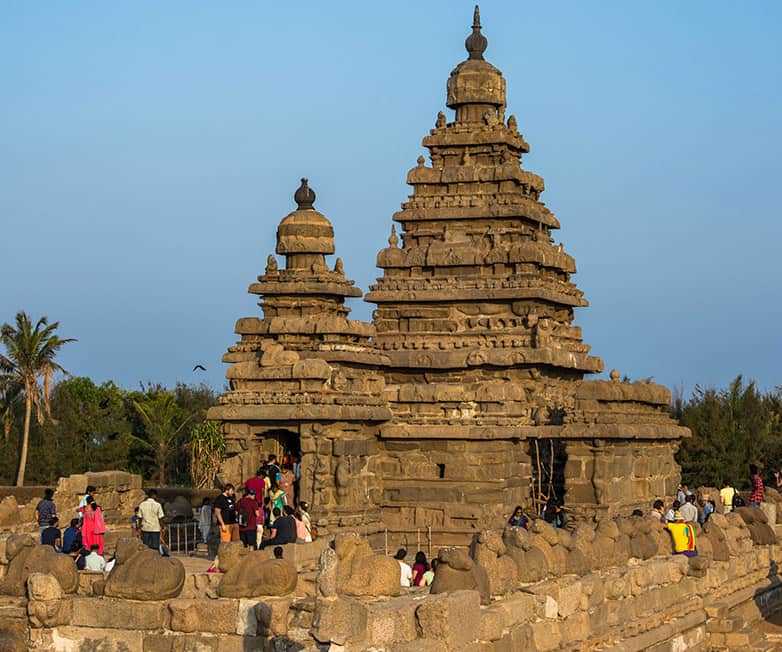 The shore temple was declared a UNESCO world heritage site in 1984. All monuments in Mamallapuram are carved straight out of hard granite, whereas the Shore Temple is a building. One entry ticket purchased anywhere gives access to all monuments for that day. One ticket costs 30 INR for Indians and 500 INR for non-Indians.
Pancha Radhas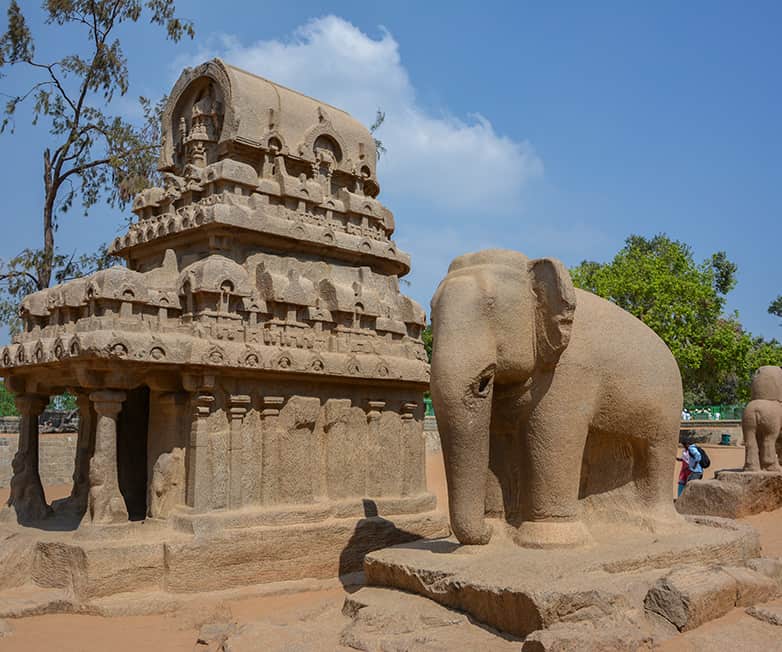 Pancha Rathas in Mahabalipuram dates back to 7th century. It contains 5 chariots carved from a single stone. There are some enormous stone animals including a huge elephant. A guide would cost around 150 INR.
Arjuna's Penance

Arjuna's Penance is an elaborate and detailed stone carvings that includes families of elephants and monkeys.
Other monuments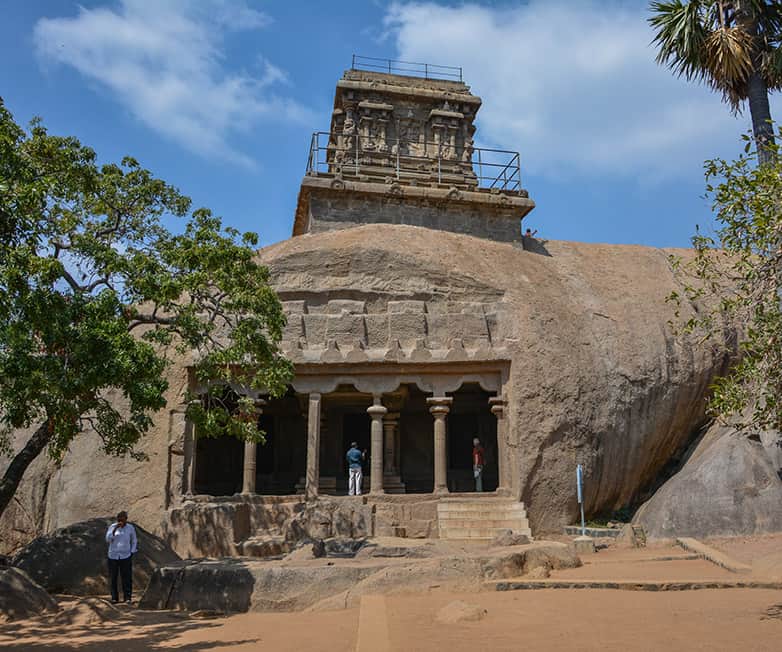 There are many other monuments and stone carvings dating back to 7th-9th century. They are all along the Mada Koil St. After Pancha Radhas, you can enter the site of other monuments through Mada Koil St.
Overall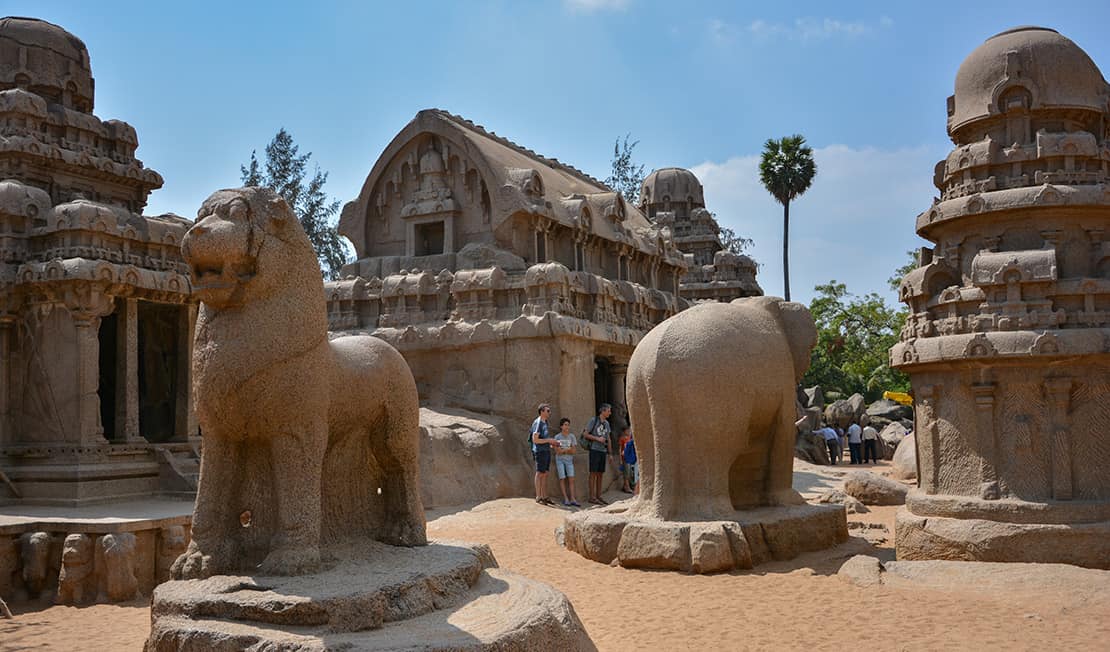 Mamallapuram (Mahabalipuram) is an ancient sea port city of India dating back to 7th-9th century. You would need one full day to explore Mamallapuram (Mahabalipuram).
***