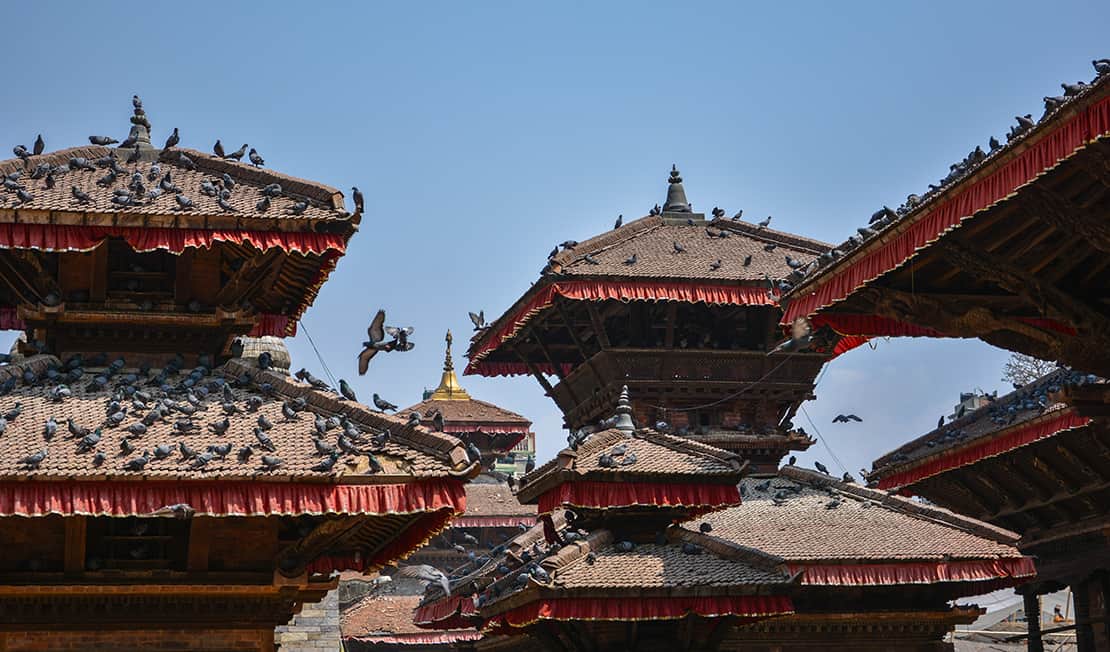 Kathmandu is the capital city of Nepal. It is a colorful and bustling city. A cultural and artistic center of the country. There are UNESCO heritage sites and many hidden temples scattered all around the valley of Kathmandu. This Kathmandu travel guide gives you all the information you need on Nepal visa, transit options, survival tips and things to do in this colorful city.
The 2015 earthquake caused damage to quite a few historic buildings, which can be witnessed especially at Kathmandu Durbar Square. Kathmandu can be congested, dusty and noisy, but you have to give it a few days to truly start appreciating this city.
Most travelers spend only a few days in Kathmandu either before or after their trek. But, you need around 5 days to explore Kathmandu and Kathmandu valley.
Planning
Visa
Nepal has an excellent visa on arrival policy offering visa on arrival to most nationalities. Refer to the Nepal Visa Guide for detailed information on visa requirements, application process and documentation.
Flight
Tribhuvan International Airport (KTM) is the only international airport in Kathmandu.
Accommodation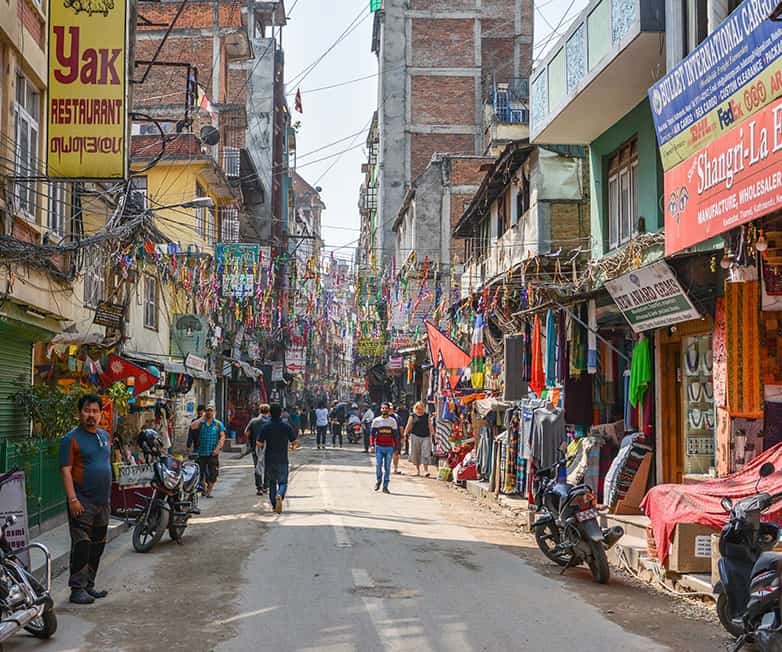 Thamel is the best area to stay when you are heading for a trek. There is pretty much everything in Thamel. You can find hotels, hostels, restaurants, bars, cafes and stores selling / renting all kinds of trekking gear.
All hotels in Thamel store your bags for free while you are on your trek. Every hotel has a storage room where you can leave your luggage. If you are leaving behind your laptop and valuables, let the hotel staff know so they'll keep the bag somewhere safe.
If you are looking for a budget hotel, I recommend Hotel Pokhara Peace. Thamel can be dusty and noisy, but this hotel is on a quite street yet central to everything.
Guide
In addition to this Kathmandu travel guide, I suggest you to check out the below guides to plan your trip.
Getting around

Transport from/to airport
The best way to get to anywhere from the airport is by Taxi. There are prepaid taxis that would cost about 800-1000 NPR to Thamel.
For a cheaper taxi, exit the airport and walk towards the front of the taxi line. Just say "500 rupees" to any taxi. Someone will accept and drive you to Thamel for 500 NPR.
Bus
There are plenty of local buses that run within the city. It's difficult to know which bus goes where as all signs on the buses are in Nepali.
For long distance, you can take public buses from the New Bus Park and Micros from there as well.
There are also air-condition tourist buses such as Greenline, that run between major destinations. Most hotels can book the tourist bus tickets for you.
Taxi
There are plenty of taxis all around Kathmandu. These are mostly the old Maruti 800 cars, so there is not much room for luggage.
Uber
There is no Uber service in Kathmandu.
Survival

ATM
There are no ATMs inside Tribhuvan International Airport in Kathmandu. You will end up in huge trouble for your visa on arrival if you do not have any cash on you. Make sure you have some USD, Euro or NPR for your visa fee before you arrive.
There are plenty of ATMs in Thamel area and everywhere else in Kathmandu.
Credit Card
Hotels and Restaurants that accept credit card charge an additional 5% surcharge on the total. Basically, they just put the fee that they have to pay for credit card payment on the customer itself. So, it's always better to pay in cash.
Currency Exchange
There are currency exchanges within the airport and also in the Thamel area.
Water
Tap water is not safe for drinking. Bottled water is available in stores and super markets. A 1 liter water bottle costs around 25-30 NPR. Most hotels offer refills on water. A 1 liter refill costs around 5-10 NPR.
Food
There are plenty of food options available in Thamel. Nepali, Indian, Chinese, Japanese, Italian, German, etc. For cheaper options, just walk a few meters outside the Thamel area or look in the alleys.
Drinks
There are plenty of bars in Thamel serving beer and cocktails. Local beers such as Gurkha, Everest, Nepal Ice, Tuborg are available at most bars. Pretty much every bar has live music every night. Try Paddy Foley's Irish Pub.
Tipping
Tipping is not customary in Nepal. No need to tip anywhere.
Clothing
It can be a bit chilly in the nights and mornings. Carry a light jacket.
Safety
Thamel is safe. Excercise caution when walking alone in the night.
Internet
Wifi is terrible in the hotels. It's usually 1-3mbps. If you really need consistent and reliable internet, try these cafes
Explore
Things to do and places to explore in Kathmandu.
Kathmandu Durbar Square

Durbar square is a must see attraction in Kathmandu. This is where the Kings ruled the Kathmandu Kingdom from. It is one of the finest example traditional Nepali architecture. The site was declare as a world heritage site by UNESCO in 1979.
Many buildings and temples were damaged during the 2015 earthquake. Restoration efforts are currently in place.
Though it is free to walk around and see the buildings, there is an entrance fee to go inside the buildings. Foreigners must pay 1,000 NPR and SAARC nationals 150 NPR.
Temples in and around the city

There are several temples scattered all around the city. Kathe Swyambhu Temple, Krishna Temple, Seto Machhendranath Temple, Bhimsen Temple, Ram Chandra Mandir and various others.
Garden of Dreams
Just two minutes walk from Thamel, the garden of dreams transforms you from a noisy and dusty city life to tranquility. It is a quite and well maintained garden. Entry is 200 NPR. Wifi is available for small fee.
Swayambhunath Temple

Swayambhunath temple stands on top of a hill on the west side of the city. It is popularly known as monkey temple as there a lot of monkeys living on the hill and within the temple complex. It is about 40 minutes walk or a 300 NPR taxi ride from Thamel.
It consists of the perfectly proportioned, white washed stupa and a collection of shrines. Though it is one of the oldest religious sites in Nepal, the stupa has been reconstructed and renovated many times. The site was severely damaged during the 2015 earthquake. But the main stupa escaped the damage. Though the site is free to enter for locals, foreigners must pay 200 NPR and SAARC nationals 50 NPR to enter.
Pashupatinath Temple

Situated on the banks of holy Bagmati river, Pashupatinath temple is Nepal's most important Hindu temple. The temple is surrounded by stores selling incense, rudraksha and tikka powder. Cremations take place at the funeral ghats on the banks of Bagmati river.
The temple is about 30 minutes east of Kathmandu. It would about an hour to walk. A taxi would cost around 300-400 NPR. You can also catch a micro from Jamal (in front of Biswajyoti Mall) heading toward Gaushala or Bouddha or Jorpati for about 20 NPR. Get off at Gaushala and the temple is about 5 minutes walk from there.
Note: I have seen many tourists taking photos and GoPro videos of the funerals. I personally think it's not respectable towards the grieving relatives of the deceased. So, please refrain from taking photos/videos of the funerals at the temple.
Bouddhanath Stupa

Bouddhanath Stupa is the largest stupa in Nepal. It is the center of Tibetan culture in Kathmandu and a UNESCO world heritage site since 1979. The stupa was slightly damaged during the 2015 earthquake but it has already been restored. The entry into the stupa area is 200 NPR for foreigners and 50 NPR for SAARC nationals.
The stupa is about 30 minutes east of Kathmandu. A taxi would cost around 300-500 INR from Thamel. You can also catch a micro from Jamal (in front of Biswajyoti Mall) heading towards Bouddha or Jorpati for about 20 NPR.
Bhaktapur

Bhaktapur is a very pleasant town. It is clean and dust free. The original name of Bhaktapur was Bhat Gaun (Rice Village). When the kingdom was established here, the name was changed to Bhaktapur. It is a UNESCO world heritage site.
The main attraction in Bhaktapur is it's Durbar Square (King's palace) and Nyatapola temple, the tallest temple of Nepal. Nyatapola temple is a 5 story pagoda built in the 18th century. Most temples in the durbar square have collapsed during the 2015 earthquake. They are being restored now.
Entry into the durbar square and the UNESCO area of Bhaktapur is 1500 NPR for foreigners and 500 NPR for SAARC nationals.
Try Ju Ju Dau (King Curd), a sweetened yogurt served in a clay cup. It is a speciality of Bhaktapur. It is available in most stores around durbar square for about 50 NPR.
Bhaktapur is about an hour south east of Kathmandu. A taxi would cost around 1000 NPR from Thamel. You can catch a mini bus from Bagbazaar Bhaktapur bus park heading to Bhaktapur for about 25 NPR.
Note: Bhaktapur is a bit expensive and the restaurants inside the Durbar Square are very expensive. The strange thing is that these restaurants have two menus. A regular menu and a second menu that is 50% more expensive. They use different menus for different people which I think is discrimination.
Patan

The original name of Patan (pronounced as Paatan) is Lalitpur. Many locals still refer to this city with it's old name. The durbar square is the main attraction in Patan. Though some of the buildings were damaged during the 2015 earthquake, restoration works are being carried out at a very quick pace.
Entry into Patan durbar square is 1000 NPR for foreigners and 250 NPR for SAARC nationals.
Patan is about 30 minutes south of Kathmandu. A taxi would cost around 400 NPR from Thamel. You can also catch a mini bus for about 20 NPR.
Pilgrims Book House
If you are a book lover, you should definitely visit Pilgrims Book House in Thamel. It feels like an oasis in the midst of dusty streets of Thamel. This 3 story book store is filled with books of all genres. Friendly and well read staff will inspire you to read more. Though the book store existed in Thamel since 1984, the original location was burned down in a fire accident in 2013. Their new location is small but still does a great job in mesmerizing you with their collection of books.
Overall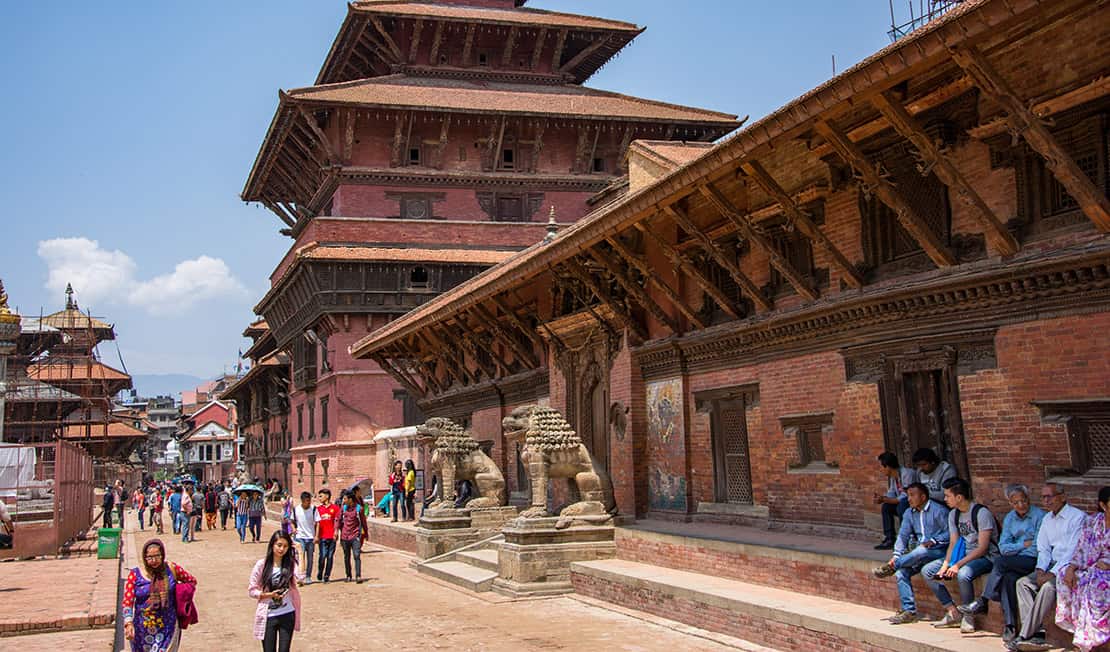 Kathmandu is a bustling and colorful city with many hidden gems. You need around 5 days to explore this city along with Patan and Bhathapur.
[do_widget id=text-36]
[do_widget id=text-35]
[do_widget id=text-34]
***