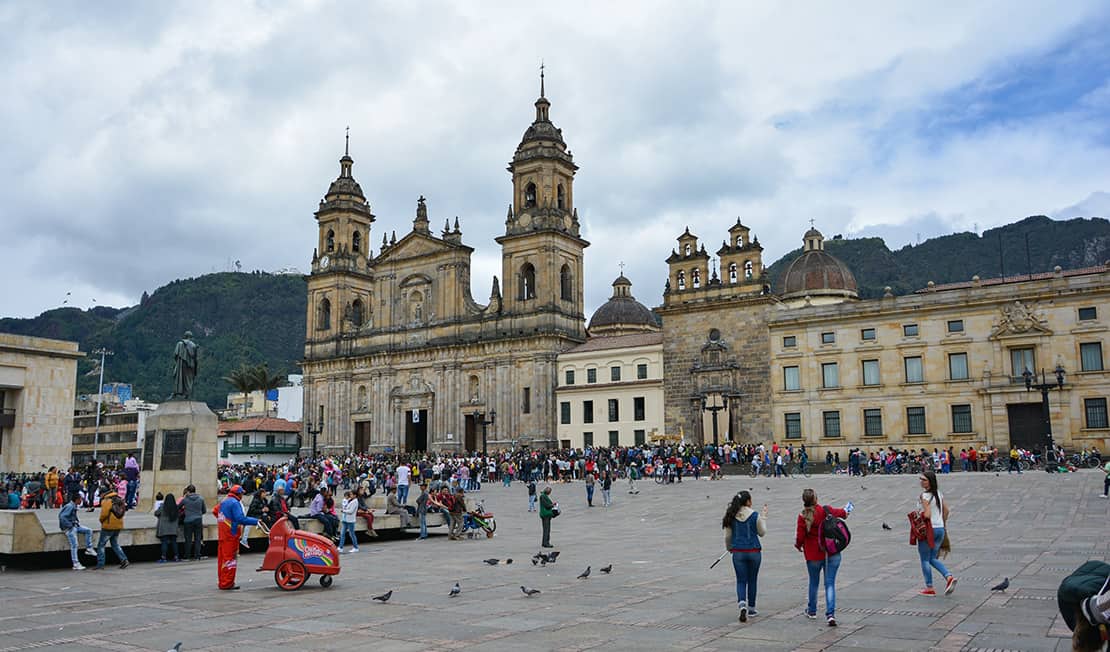 Bogotá is the capital and the largest city in Colombia. This city is a perfect mix of colonial and cosmopolitan. Hugging the peaks of Andres, Bogotá is at 2,640m above sea level. Due to its high altitude, Bogotá can be chilly at times.
The public transit system is not very convenient in Bogotá. Because of that, you might have to stay close to the major attractions or take taxis. This Bogota travel guide gives you all the information you need on Colombia visa, transit options, survival tips and things to do in this beautiful city.
***
PLANNING
Visa
Refer to Colombia Visa Guide for detailed information on visa requirements, application process and documentation.
Flight
Bogotá has only one airport for both international and domestic flights. The Aeropuerto Internacional El Dorado (BOG) is located about 15km from the city center. Budget airlines within Colombia such as VivaColombia, EasyFly and Avianca also operate from this airport.
PRO TIP
When booking flights within Colombia, book them directly on the flight's website instead of an online travel booking site such as Expedia. Online travel booking sites only show internationally available tickets which are priced at 3 to 4 times the actual price. You can book tickets using an international credit card on VivaColombia, EasyFly and Avianca. Tickets are issued right away on VivaColombia and EasyFly. Avianca takes about 8 hours and sometimes they call on your cellphone to verify the details. You have to pay for carry-on baggage on VivaColombia and EasyFly. Avianca includes a carry on in the ticket price.
Accommodation
I suggest these three neighborhoods to stay in Bogotá.
South of Parque El Virrey – A very lively neighborhood with tons of restaurants, bars and clubs. Safe to walk around even late in the night. Many hotels and Airbnbs are available. Very affordable. The closest Transmilenio station to this area is Virrey.
Around Parque De La 93 – An upscale residential neighborhood with cafes, bars and restaurants around the park. Safe to walk around till 11 pm or a bit later on Friday and Saturday nights. There are a few hotels and many Airbnbs in this neighborhood. A bit expensive. There is no Transmilenio station close to Parque De La 93. The closest is Virrey which is about 20 minutes walk.
La Candelaria – This is the downtown and colonial part of the city. This is also the main tourist area. There are tons of bars and restaurants here. It may not be very safe to walk around after dark. Lots of hotels and hostels are available in this neighborhood. Affordable. There are many Transmilenio stations within this area. All major attractions are in this area. The public transit system is not very good in Bogotá. Therefore, many travelers prefer to stay in La Candelaria since all major attractions are within walking distance.
Guide
In addition to this Bogota travel guide, I suggest you to check out the below guides to plan your trip.
***
GETTING AROUND
Transport from/to airport
TransMilenio doesn't connect the city with the airport. But there is a SITP bus P500 that connects the airport to a few neighborhoods including Parque El Virrey.
If you are staying in Parque El Virrey or Parque De La 93, you can take the bus P500. If you are staying in La Candelaria, you might have to take an Uber or Taxi.
When you exit the airport, you will see a few bus stops. Take left and walk past all the bus stops till you get to P500 bus stop. Take the bus P500 towards the destination Centro Andino. Get off at AK15-CI87 stop which is next to Parque El Virrey.
If you are staying in Parque De La 93, it's about 10 minutes walk from there.
One way fare on P500 is $2000 COP. Here is the route map of P500.
Train
There is no Metro train system in Bogotá. There is a similar system called TransMilenio. These are RED colored long buses that have dedicated lanes and stations.
You will need a ticket to enter any TransMilenio station. TransMilenio buses can get very crowded during weekdays. A one-way ride costs about $2000 COP.
Bus
The bus system in Bogotá is called SITP. These are BLUE colored buses that connect the areas that TransMilenio does not. SITP buses can get very crowded during weekdays.
Taxi
Yellow-colored taxis are available all over the city. At the airport and the bus terminal, there are prepaid taxi counters.
Uber
Uber is widely available but there is a backlash against Uber from police and taxi drivers. Sit in the front seat when you get in. If someone stops your Uber, just say you are friends with the driver. Do not say it's Uber, otherwise, both you and the driver might get into trouble.
Tickets/Passes
Depending on how much and how frequent you will be using public transit, you can buy one-way tickets or a pass.
One way ride ticket – Each one-way ride ticket costs about $2,500 COP. You can buy one-way ride tickets at any TransMilenio station.
TuLlave Card – You can purchase a TuLlave card at any TransMilenio station. A TuLlave card will cost $6,000 COP and then you must recharge with a minimum of $50,000 COP. Transfers are discounted and you can also get two additional trips on credit. You can use this pass on both TransMilenio and SITP buses.
***
SURVIVAL
ATM
At the airport, ATMs are available near the exists. ATMs are available pretty much everywhere in the city.
Credit Card
Most bars and restaurants are cash only. Some upscale bars and restaurants do accept credit cards. Make sure they swipe your card in front of you.
Water
Tap water is perfectly safe to drink in Bogotá.
Food
Colombian cuisine has a lot of variety and is very delicious. Try Tamales for breakfast. Tamales are wrapped in banana leaf and they are usually large in size. Also, try Huevos Pericos for breakfast. It's scrambled eggs with tomato and onion. Comes with an Arepa, a corn flour bread.
There are many soup dishes such as Ajiaco, Sancocho, etc. which are absolutely delicious. Menu del dia is also available in most places.
Colombia has a lot of variety of fruits. There are many exotic fruits that are only available in Colombia. Try fruits and juices while you are there.
Drinks
Two commonly available Colombian beers are Club Colombia and Aquila. Both are great beers.
Tipping
Tipping is not mandatory. If you like to leave a tip, it's usually 10%. It is not included in the bill. When paying by cash, you can add a tip if you like.
When paying by card, you will be asked by the waitress if a service charge (tip) can be included and how much. Just say 10% and they will add it to the total.
Clothing
Bogotá is at 2,640m above sea level. It can get cold at the night. Bring a light jacket. It also rains, so bring a rain jacket as well.
Safety
Parque El Virrey and Parque De La 93 are safe. Do not walk past 11 pm on the isolated streets in these two neighborhoods. Do not walk after dark in the rest of the city. Just take a taxi or Uber.
Internet
Internet speed is good. Many cafes including Starbucks have wifi and the speeds are very good.
***
EXPLORE
Things to do and places to explore in Bogotá.
La Candelaria
La Candelaria is the historic downtown of the city. The heart of La Candelaria is the massive Plaza de Bolívar. With hundreds of years old colonial buildings and cobblestone streets, La Candelaria is definitely a visual treat to travelers.
All major attractions of Bogotá are in La Candelaria. You need at least half a day to explore the attractions in La Candelaria.
Museo de Oro and Museo Botero
Museo de Oro and Museo Botero both are in La Candelaria. These two museums are really big and interesting. Museums are closed on national holidays but they are open on the weekends. Entry to museums on Sundays is free. You need at least half a day to explore these two museums.
Cerro Monserrate
Cerro Monserrate offers gorgeous views of the entire city. Go in the evening so you can get both the view during the day and at night. The view of the city at the night is phenomenal. There is a beautiful church on the top.
There is also a market with many food vendors serving delicious Colombian cuisine. There is a free shuttle in the night from the cable car station to Las Aquas TransMilenio station.
Parque Virrey and Parque De La 93
Bogota is a green city. There are parks everywhere. Locals love to go to the parks on the weekends. Streets next to Parque El Virrey are closed to traffic on the weekends. These streets are open to only bikers and joggers. You will find musicians, street performers and food vendors on these streets.
Parque De La 93 is also a great spot to sit, chill, people watch or just wander around. There are several cafes and restaurants around Parque De La 93.
***
CONCLUSION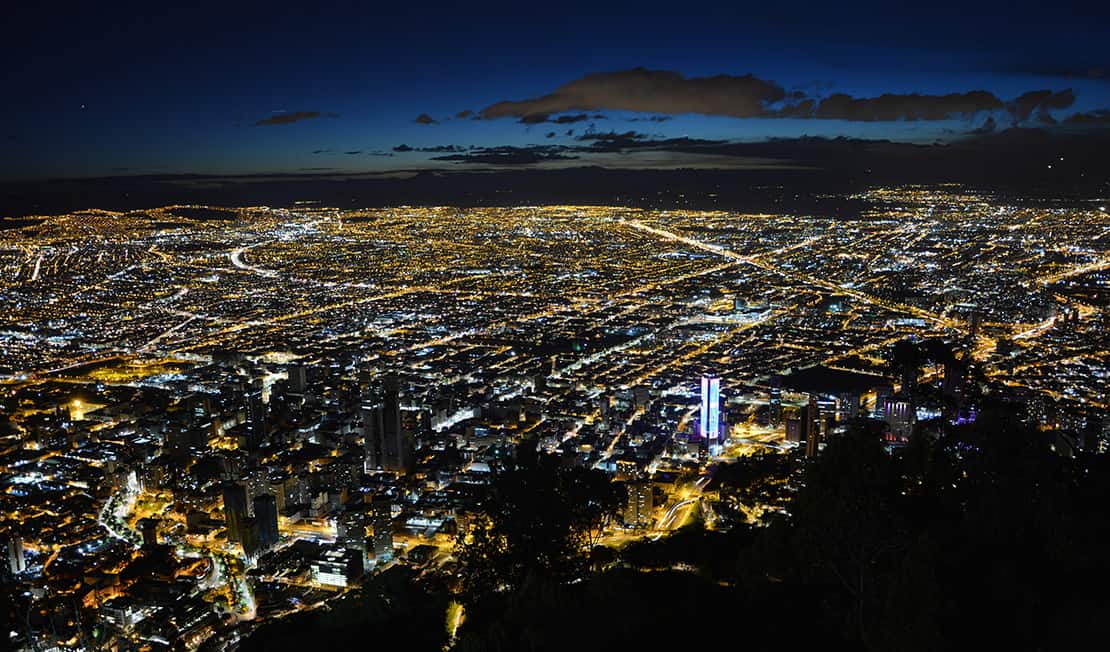 Bogotá is the heart and soul of Colombia. It is vibrant, colonial and cosmopolitan. You need at least 2 to 3 days to explore this beautiful city.
---
WRITTEN BY THIRUMAL MOTATI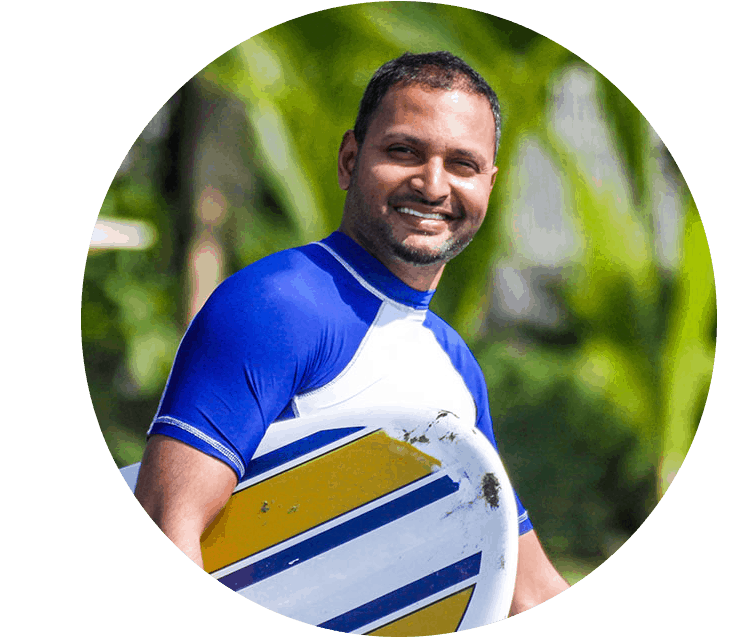 Thirumal Motati is a world traveler and digital nomad from India. He is on a mission to travel to every country in the world on his Indian passport. He believes that his weak passport cannot stop him from traveling the world. Through this blog, he inspires many to take up the life of travel despite their weak passports. His guidance has helped many secure their visas and fulfill their travel dreams. 
[do_widget id=custom_html-28]
[do_widget id=custom_html-29]
[do_widget id=heateor_sss_sharing-2]
[do_widget id=text-36]