Promote your brand on Visa Traveler from $33 USD per month.
Promotions on Visa Traveler helps you grow your brand awareness by reaching hundreds and thousands of Visa Travelers around the world. You can target specific articles or reach all readers visiting VisaTraveler.Com
IMPORTANT
There will be only ONE brand promotion per article. Your brand will be promoted exclusively.
***
Why you should promote your brand on Visa Traveler?
Grow Your Brand Awareness: Put your brand/company in front of over 200,000+ readers a month. I update all articles regularly to keep them fresh and up to date. This brings more readers to the website and the readership is continuously growing.
Highly Targeted Promotions: There will be only ONE exclusive promotion per article. Promotions are large 2000×1000 pixel graphic that grabs the readers attention.
Gain Potential Customers: I respond to user comments every day and each article has over 500+ comments. Readers come back to the articles to read the latest comments and responses. More returning readers means more long term customers for you.
***
Articles, Promotions and Prices
Article
Monthly
Impressions
Promotion
Position
Monthly
Price
Quarterly
Price
Availabitility (2019)
(25% discount)
Jul
Aug
Sep
Oct
Nov
Dec
Side Bar (high visibility – desktop only)
100,000
First Widget
$333.00
$749.00
✓
✓
✓
✓
✓
✓
11 mistakes that can get your visa application denied (and how to avoid them)
50,000
Below Intro
$167.00
$376.00
✗
✗
✓
✓
✓
✓
11 Reasons for UK visa refusal (and how to overcome them)
38,000
Below Intro
$133,00
$299.00
✓
✓
✓
✓
✓
✓
How to travel 37 countries VISA-FREE with US visa
35,000
Below Intro
$117.00
$263.00
✓
✓
✓
✓
✓
✓
How to fill DS-160 form online for US visa – A step-by-step guide
33,000
Below Intro
$117.00
$263.00
✓
✓
✓
✓
✓
✓
How to travel 25 countries VISA-FREE with UK visa
26,000
Below Intro
$100.00
$225.00
✓
✓
✓
✓
✓
✓
How to schedule US visa appointment- A step-by-step guide
25,000
Below Intro
$83.00
$187.00
✓
✓
✓
✓
✓
✓
UK Tourist Visa Requirements
19,000
Below Intro
$67.00
$151.00
✓
✓
✓
✓
✓
✓
15 ways to get a travel itinerary for visa application
15,000
Below Intro
$50.00
$113.00
✗
✗
✗
✗
✗
✗
How to travel 25 countries VISA-FREE with Canada visa
8,000
Below Intro
$33.00
$74.00
✓
✓
✓
✓
✓
✓
Canada Tourist Visa Requirements
8,000
Below Intro
$33.00
$74.00
✓
✓
✓
✓
✓
✓
***
Promotion Graphic Specifications
Location: Side Bar
Scope: High Visibility
File Type: JPG or PNG
File Size: Max 50kb
File Dimensions: 720 x 720 pixels
Sample: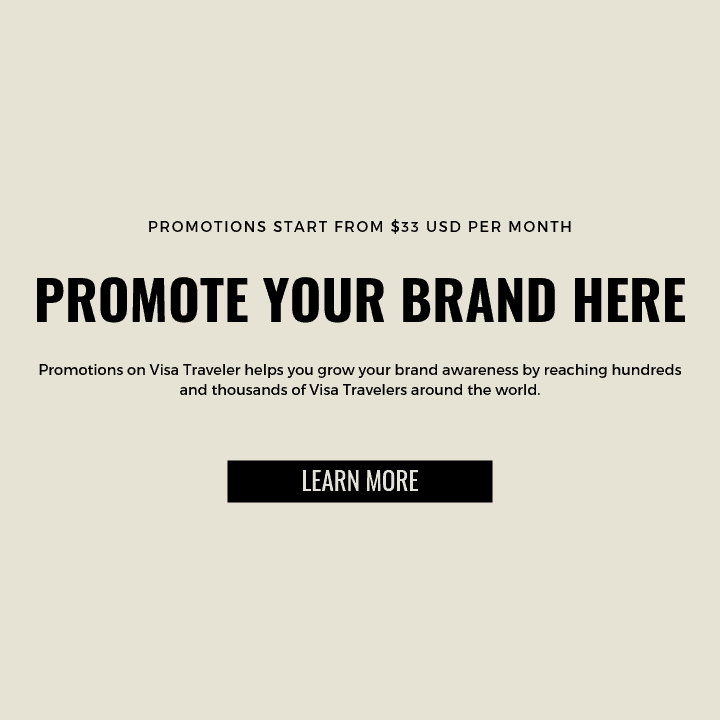 Location: Article
Scope: Highly Targeted
File Type: JPG or PNG
File Size: Max 150kb
File Dimensions: 2000 x 1000 pixels
Sample:

***
Promotion Inquiry